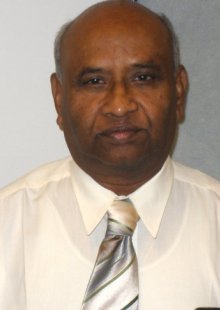 ABOUT

Radhakrishnaiah

Parachuru

Senior Academic Professional/Principal Research Scientist, Retired

Dr. Parachuru holds BS, MS and PhD degrees in textile engineering and an MS degree in Decision Sciences/Applied Statistics. He is a very knowledgeable and experienced scientist with more than 35 years of teaching, research and industrial experience in polymer, fiber, textile, apparel, carpet and other related disciplines.

His research contributions fall under three main categories -- textile structures, structure-property relationships and objective evaluation of subjective textile properties. In the past, he taught in almost all areas of textile manufacturing, including textile testing, nonwovens, technical textiles and carpets. He has completed dozens of projects for industry partners, with most projects falling in the following categories:

Product/process optimization
Technical trouble shooting
Preparation of third party reports based on product analysis and evaluation
Design and evaluation of new products
Assistance for product diversification and expansion into value added products
Establishment of quality control facilities and routines
Business data modeling and analysis, and
Miscellaneous cost saving projects.

Dr. Parachuru has been an active member of Fiber Society, AATCC, ASTM and TQCA. Currently he plays an active role on several AATCC technical committees and also serves as chairman of the AATCC committee on statistics. His current research focus is on utilizing the advances in the fields of nanotechnology and biotechnology to advance the state of the art in fiber product manufacturing.

After serving as a field expert in dozens of civil and criminal court cases involving polymer, fiber, and textile materials and products, Dr. Parachuru has gained recognition as one of the leading technical experts in his field. His experience covers local, state and federal courts in multiple states and also city, state and federal governments and private agencies.
EDUCATION & AWARDS

Education

· MS - Decision Sciences with major in Applied Statistics, Georgia State Univ., Atlanta, GA .
· Ph.D. - Textile Engineering, Indian Institute of Technology, New Delhi, India.
· MS - Textile Technology, University of Madras, India.
· BS - Textile Technology, University of Madras, India. 
RESEARCH INTERESTS

Research Interests

Enhancing the state-of-the-art in fiber product manufacturing using the latest advances in the fields of nanotechnology and biotechnology
Developing appropriate test methods for the assessment of emerging new products in nontraditional application areas such as healthcare, filtration, transportation and civil engineering
Process and product optimization for fiber, yarn, fabric, garment and other miscellaneous fiber products using design of experiments and analysis of variance concepts
Developing environment-friendly alternatives to pollution prone manufacturing processes
Assessment/evaluation of new manufacturing technologies and their products
Creation of databases to facilitate backward engineering of yarns, fabrics and miscellaneous fiber products