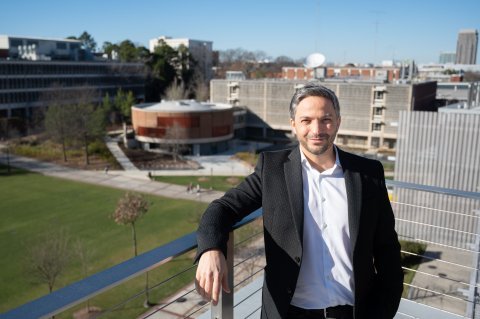 The University System of Georgia (USG) has honored six College of Engineering scholars with Regents' titles, the highest academic and research recognition bestowed by the USG Board of Regents.
Krishnendu Roy and Surya Kalidindi were named Regents' Professors (Kalidindi was reappointed). Four others — Farrokh Ayazi, Andrei Fedorov, Mark Prausnitz, and Gleb Yushin — were honored as Regents' Entrepreneurs, the first time the USG has made the designation. The group is among 15 Georgia Tech faculty members or researchers honored this year with Regents' titles.
MSE professor Gleb Yushin is a pioneer and globally recognized leader in advanced materials for next-generation Li-ion batteries. He is member of the National Academy of Inventors and fellow of three international professional societies. He has been awarded more than 200 patents, while also being one of the most cited Georgia Tech professors since 2019. He co-founded the most economically successful Georgia Tech startup Sila Nanotechnologies ($3.3B valuation). Yushin has served as a founding faculty advisor for the Entrepreneurs Club at Tech and as an advisor to the Georgia Tech startup CellFE. 
Regents' Professorships and Regents' Researcher titles may be granted for a period of three years by the Board of Regents to outstanding faculty members of Georgia Tech, Augusta University, Georgia State University, the University of Georgia, and, in special circumstances, other USG institutions.