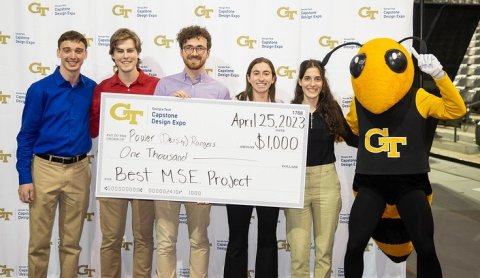 The team Power (Density) Rangers took top MSE honor at 2023 Capstone Design Expo, held Tuesday, April 25, at McCamish Pavilion. Three colleges from 11 schools with 190 teams competed in the Expo. MSE had nine teams competing and eight interdisciplinary teams that included MSE members.
Power (Density) Rangers designed and fabricated supercapacitors using a novel graphene material developed by the sponsor, HeXalayer. Supercapacitors are a critical energy storage system behind the transition to electric vehicles and a renewable energy grid. Additionally, the team designed a method to introduce a conductive polymer to the device, which significantly improved the energy storage capabilities. The team consisted of Josephine DeRonja, Matthew Reingold, Oliver Hvidsten, Ori Nofsinger, Philothei Sahinidis, and Ralph Kindler.
The 2023 Prize for Best Overall Project went to an industrial and systems engineering students, with a tool designed to speed packing for their sponsor, Axiom, documenting the years of nuanced knowledge from the human packers and translating it into data ground-logistics software to optimize the process. 
See the complete list of 2022 Capstone winners here.