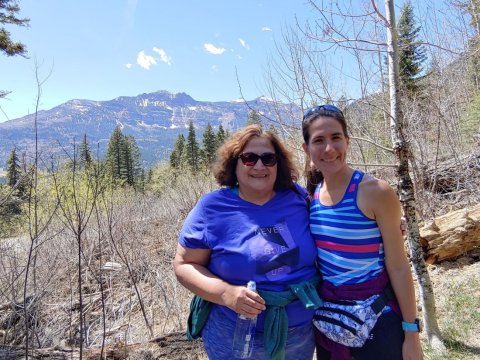 It's been almost 50 years since NASA launched Apollo 17, the last crewed mission to land on the moon. As the world prepares for a lunar return with the Artemis missions, a new generation of space enthusiasts are on the horizon. One of them is Heidi Brewer, AE 2005, daughter of MSE professor Rosario Gerhardt.
Brewer is one of the seven new inductees in NASA's 2022 class of flight directors, stationed at NASA's Johnson Space Center (JSC) in Houston, Texas. In her new role, she will lead human spaceflight missions to the International Space Station (ISS) and prepare for a multitude of others including Artemis.
"I am excited about everything. "This role is a perfect combination for me. It's technical work, while also allowing me to work with people and solve problems. That's everything I've ever wanted to do," shared Brewer.
Taking flight
The Marietta, Georgia, native found her love of aerospace at an early age while growing up near Dobbins Air Force Base and the Atlanta airport. "I also had the chance to go to the NASA Space Camp in Huntsville, Alabama, as a kid and see what space operations were like. Aerospace has always been a lifelong passion of mine."
But perhaps what inspired Brewer the most as a child was her mom, Rosario Gerhardt, an engineer and current professor in Georgia Tech's School of Materials Science and Engineering. "While sitting at the dinner table, we talked a lot about mom's science, her research, and the classes she taught at Tech. It was really inspiring to see a successful woman in STEM. That made me want to study engineering," she added.