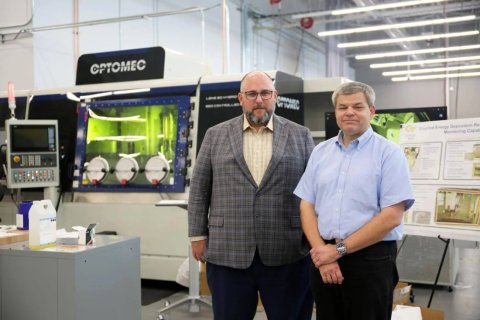 Associate MSE professor Aaron Stebner outlined an aggressive plan for artificial intelligence and manufacturing when he applied for a faculty position in 2019. In his cover letter, he promised "to establish the Georgia Institute of Technology as a world leader in additive manufacturing of solid materials (ceramics & metals) R&D, especially in the fusion of data sciences and AI to create new, world-leading technologies."
Stebner thought it would take 10-15 years of incremental steps and funding to achieve the goal. He was wrong.
Thanks to a new $65 million grant from the U.S. Department of Commerce's Economic Development Administration, announced by President Joe Biden, Stebner's plan will begin to become a reality — and include the entire state of Georgia and all of its manufacturing sectors from agriculture to airplanes — two years after arriving on campus.
The largest of the nine projects within the larger Georgia AI Manufacturing (GA-AIM) technology corridor grant will allow Stebner and Georgia Tech to transform the Advanced Manufacturing Pilot Facility (AMPF) into the Artificial Intelligence Manufacturing Pilot Facility (AI-MPF). The 24,000 square-foot facility on 14th Street will more than double in size after Georgia Tech and statewide GA-AIM partners were selected as one of 21 Phase II awardees in the $1 billion Build Back Better Regional Challenge (BBB) competition, part of the Investing in America's Communities initiative under the American Rescue Plan Act of 2021.